By: International Living
For Americans considering a move out of the U.S., several popular countries have recently opened to travelers on U.S. passports, making now a great time to explore better-value options overseas. A new report from the editors at International Living details five good-value options that expats have been raving about for decades.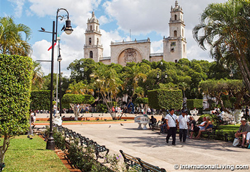 Merida, Mexico.
«But if you're looking for some spots where you could take an overseas stint for a test drive, you should know: Mexico, Colombia, Costa Rica, Belize and Ecuador all have their welcome mats out for visitors coming in on a U.S. passport."
BALTIMORE (PRWEB) NOVEMBER 10, 2020
"Since March 2020, we've been saying at International Living that this is a great time to get your ducks in a row, to do your research about where you might want to live or spend time overseas, to narrow down your options and put a plan in place for a trip to go exploring," says Jennifer Stevens, Executive Editor, International Living.
"Now, you can actually go. Not everywhere, mind you—not yet—but we've put together a short list of tried-and-true, good-value expat havens where Americans coming from the U.S. can travel today.
"Now, keep in mind this list may change—this virus isn't done with us yet—so you'll need to keep an eye on embassy updates and the like. But if you're looking for some spots where you could take an overseas stint for a test drive, you should know: Mexico, Colombia, Costa Rica, Belize and Ecuador all have their welcome mats out for visitors coming in on a U.S. passport."
International Living's editors have highlighted countries that make good sense to consider from the perspective of value, ease of settling in, quality of life, and proximity to the States: Mexico, Colombia, Costa Rica, Belize and Ecuador. All of them—at time of writing—are welcoming Americans traveling on their U.S. passports.
As many as 1 million U.S. and Canadian citizens already call Mexico their home, with more joining them all the time. Mexico has a lot to recommend it.
Convenience, for one thing: From the U.S. and Canada, folks can drive to Mexico or fly there in a few hours, in most cases. Mexico offers many of the First-World conveniences—including good highways, plenty of airports, reliable telephone service, and fast internet connections.
Mexico's lower cost of living means a comfortable, fulfilling life will likely cost a fraction of what it would back home.
A spot to consider: Take Merida for example. A couple can live well here on a monthly budget of $1,434 to $1,740.
Near the northern coast of Mexico's Yucatan Peninsula, about 22 miles south of the Gulf of Mexico, Merida is a regal colonial city, home to some one million people. It offers culture, sports, modern infrastructure, world-class affordable medical care, and handy access to the Gulf of Mexico. It's easy to understand why Merida has long been a favorite of expats. It is also among the most historically significant cities in all of Mexico.
Capital of the state of Yucatan, Merida's ancient roots go back to, what was formerly, the Maya city of Tho´, also known as Ichkaanziho´. And it is Merida's rich history and current indigenous influences, mixed with a modern lifestyle, up-to-date infrastructure, and a reduced cost of living that makes it an attractive option for expats.
Located in the north of South America, Colombia has coastline on both the Caribbean Sea and the Pacific Ocean, borders the Darien jungle to its west, and has the Amazon to its east. Colombia is the second most bio-diverse in the world—with 1,889 species of birds, Colombia is home to 20% of all species on earth. Tucked away in the eastern part of the country is Caño Cristales, the river dubbed a "liquid rainbow." This river of five colors is one of the country's many natural gems.
All this gorgeous scenery is a backdrop to one of the best things about Colombia–its warm, accepting people. Expats report that Colombians welcome folks into their communities with music, dancing, interesting local food, and of course festivals. Nearly every city and town has a festival to celebrate some aspect of Colombian life—and everybody is invited to participate.
A spot to consider: Nestled into a valley surrounded by the Andes Mountains, lies one of the top expat destinations—Medellin. The City of Flowers enjoys a spring-like climate year-round, which attracts retirees looking for an active, outdoorsy lifestyle with all the benefits of a lively city.
With over 30 universities, an array of art and history museums, theaters, restaurants, and several sports complexes, Medellín has a cosmopolitan vibe. The Metropolitan Theater presents a varied program of international classical music, jazz music, and dance performances. The Museo de Antioquia, located just off the Parque Berrio Metro stop, is home to a large collection of paintings and sculptures by Medellín native, Fernando Botero.
Living in Medellín is less expensive than many comparable U.S. cities.
A couple could live well in Medellín on a budget of $1,400 to $2,000 per month.
Ecuador, the Land of Eternal Spring, is an increasingly popular destination. It uses the U.S. dollar as its currency and offers a low cost of living as well as a variety of communities welcoming for expats.
With mountains, beaches, and everything in between it is a land of an amazingly diverse range of comfortable climates and relaxed lifestyle opportunities.
Ecuador offers special benefits to residents aged 65 and older. Public transportation is half price, airfare (even when flying internationally) is significantly discounted, and seniors receive a monthly refund of sales tax paid. Plus you get to go to the front of the line at the bank and grocery store.
A spot to consider: One of the most popular destinations in Ecuador is Cuenca—a firm favorite among expats. Ecuador's third-largest city and the economic center of the southern sierra, Cuenca has long been known for its rich intellectual, artistic, and philosophical tradition as well as its lovely colonial architecture. In fact, it's a UNESCO World Heritage Trust site.
Although near the equator, Cuenca sits high in the southern Andes at an altitude of 8,300 feet, and its residents enjoy year-round spring-like weather. Temperatures rarely go beyond highs in the 70s F and lows in the 50s F, so a sweater or light jacket is sufficient all year long. Rainfall averages around three inches per month.
Here a couple can live well on $1,680 a month.
Belize offers many options to expats—the beauty of the Caribbean Sea and Mesoamerican reef compliments the lush, wild jungles of the Maya Mountains, with tumbling rivers, mysterious Maya ruins, and awe-inspiring rainforests. The Cayo region is rich with productive farms and the perfect spot for homesteading expats.
A small country barely the size of Massachusetts it's easy to travel from one part of the country to another. As a British Commonwealth country, English is the primary language, making it easy for expats to transition. This little country is also well known for its open-arms attitude toward expats who wish to become residents, or to open a business.
A spot to consider: One place attracting a growing number of savvy expats is Placencia—a charming seaside town found at the tip of a long peninsula off the coast of mainland Belize. It's fast becoming Belize's most desirable location as it fronts the turquoise Caribbean Sea to the east and a resplendent freshwater lagoon, full of wildlife and with a view of the gorgeous Maya mountain chain, to the west.
Here a couple can live well on a monthly budget of $1,760.
Costa Rica is a beautiful country, with long stretches of deserted and undeveloped beaches, dense jungles teeming with exotic wildlife, towering volcanoes, lush green valleys, and hundreds of crystal-clear lakes and rivers.
Not only that, but the country offers a great climate year-round, neighborly atmosphere, no-hassle residence programs, excellent healthcare, a stable democracy, and safety and security. For these reasons, as well as the welcoming locals who are warm and friendly to new foreign neighbors, Costa Rica has been an expat haven for more than 30 years.
A spot to consider: The country offers an array of beach towns to relocate to like Tamarindo but many opt for cooler-weather alternatives like the town of Atenas in the Central Valley. A couple can live well here from $1,518 a month.
At 698 meters above sea level, Atenas boasts the "best climate in the world," a slogan that is printed on local buses and signs. Compared to hotter beach communities and cloudier, much cooler towns, Atenas has become a popular spot for foreigners to relocate.
Retrieved from: https://www.prweb.com/releases/looking_to_escape_5_overseas_havens_americans_can_check_out_now_internationalliving_com/prweb17534987.htm