Here's how to make it happen… and do it without being terrible.
By Megan Frye
Mexico has a long history of welcoming gringos and other newcomers. Surfers looking for a cheap place to park their van, retirees seeking to extend their pension dollars, fugitives, beatniks, artists: They've all been called to Mexico for one reason or another. And most of them end up staying for a while.
I heard the call five years ago, and have lived here ever since. I moved to Mexico to study Spanish and teach English after falling in love with the country two years earlier. While I eventually started writing and translating, my story started pretty typically: I came to Mexico with a few suitcases and a one-way ticket, and decided to stay.
What makes Mexico such a great place to live depends a lot on your socioeconomic background, your worldly experience, and how much you can roll with the unknown. It's a country where you can do a lot without a ton of cash: In much of Mexico, there's accessible healthcare, great food, and lively entertainment. And it's not so far removed culturally from the US, thanks to a comparably large middle class and a steady back-and-forth between the countries due to land, people, culture and trade.
Mexico City, Mexico | JOHN COLETTI / THE IMAGE BANK / GETTY IMAGES
In this vast and diverse country, you can travel by bus or plane pretty inexpensively and enjoy everything from cloud forests to jungles, snow-covered volcanoes to pyramids, cosmopolitan cities to undeveloped beaches. 
Of course, this is not some egalitarian utopia by any means. More than 50 percent of the population lives in poverty and the very fact that you're coming here from the US implies that you will automatically be placed in the upper levels of society. As a newcomer, you'll need to pick the best place for you, and to integrate into society with respect.
By keeping a level head and an open mind, living in the guest mentality, you too might be tempted to surrender to Mexico's pull. Here's what to do when you hear that call.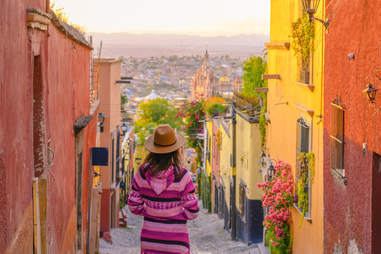 San Miguel de Allende, Guanajuato State, Mexico | © MARCO BOTTIGELLI / MOMENT / GETTY IMAGES
First things first: Visas
Most foreigners—even those who own property—come in on 180-day tourist visas, and leave the country on a visa run every six months. Or they pay the $35 fee at the airport for having overstayed their visa. I recommend going the legal route.
If you are hired by a company within Mexico, it will sponsor your temporary residency visa. You will need to renew this visa once per year in order to work, and after four consecutive years you can apply to be a permanent resident.
After 10 years with a combo of temporary and permanent residency, you can apply to become a Mexican citizen. If you marry a Mexican citizen or even a foreigner with permanent residency, you can apply for temporary and then permanent residency without much hassle.
How to find work in Mexico
Most foreigners spending long stints in Mexico have some sort of digital work in which they are telecommuting or freelancing for US or European countries. That money is usually earned in fewer hours and in greater quantities than you would be paid by a Mexican employer. You'll find a fair number of people teaching English, but that's typically more of a temporary job because in most cases, it just doesn't pay that well. 
If your Spanish is decent to good and you have a college degree, you will likely be valued by any number of multinational companies that hire workers versed in different cultures and languages. I know people who have come here from the US with zero experience in social media or PR, but who are now managing the entire communications department of a major company. Is it foreign privilege? Probably. But it pays the bills.
Original article: https://www.thrillist.com/travel/nation/how-to-move-to-mexico